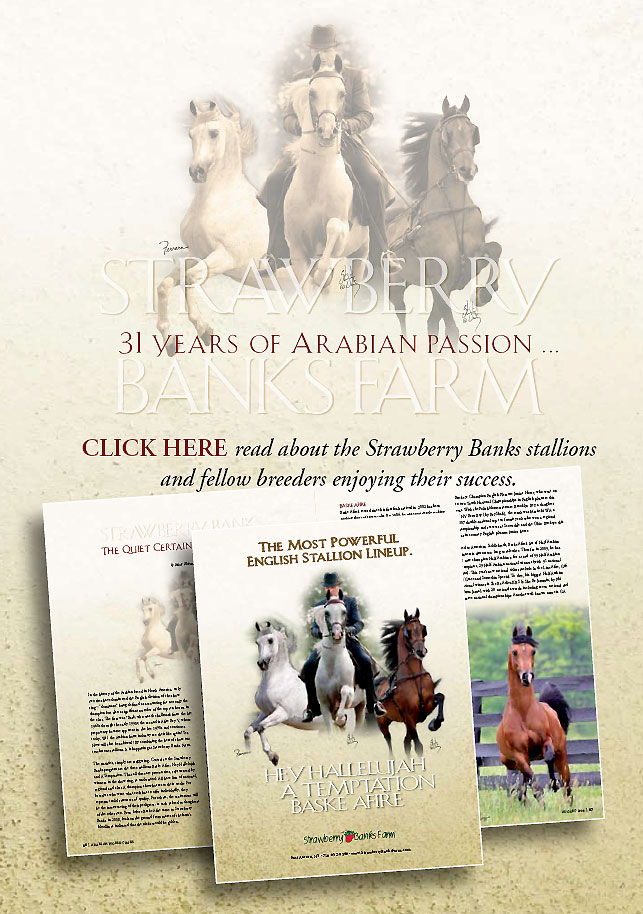 Strawberry Banks Farm video
produced by Darryl Larson



The Past And The Future Of

Strawberry Banks Farm

It was a cool evening in Albuquerque on October 27, 2001. The day had sparkled with that crystalline magic of a northern New Mexico autumn; the purple-tinged mountains stood out with extra clarity, and the light turned the cottonwood trees to pure gold. Then the vivid sunset had darkened, and the energy of the night centered in Tingley Coliseum at the state fairgrounds, where the Arabian U.S. Nationals was coming to a close. The final class was the English Pleasure Championship, and the crowd was on its feet for a competition of jaw-dropping excellence—pass after pass of high-action trot that didn't quit until the 25 top horses in the country arrived in an exhausted line-up of heavy breath and heaving flanks. Riders wiped the sweat from their faces, the tails of their perfectly-tailored jackets lathered white against their saddles.

That night offered a rare, if not unique, phenomenon in the history of the U.S. Nationals' open English Pleasure class. When the reserve national champion was called out, the 6-year-old A Temptation, ridden by Tim Shea for Strawberry Banks Farm, came forward. Junior champion the year before, he had topped the card for one official in this class. Then the name of the champion, who had earned the other two judges' votes, was read: Hey Hallelujah, also owned by Strawberry Banks, with resident trainer Brian Murch up. One farm had won both titles. More importantly, the two stallions would be united not only in the record books, but for all their lives to come. A Temptation embodied the farm's quarter-century-old breeding program, his bloodlines selected in a carefully considered effort to create the ultimate English Pleasure horse; Hey Hallelujah had been chosen to complement his stablemate in the program's next level. And that night, no one could beat either of them.

The U.S. National Show of 2001 was a defining moment for Strawberry Banks. It confirmed the farm's sirelines for next generation. A second turning point came four years later, when Neil Chur, who with his wife Barbara owned Strawberry Banks, died unexpectedly. For years, the farm had been a joint labor of love; now Barbara was left to design its future.

In the opening years of the millennium, then, a new Strawberry Banks Farm is emerging. Its breeding program is stronger than ever; its commitment to the breed, long expressed through years of service to the Arabian Horse Trust and other organizations, has become even more comprehensive: Already, Barbara Chur has been instrumental in the inauguration of the Arabian English Performance Sweepstakes, and is sponsoring incentives for owners and breeders in the Strawberry Banks program as well. And that, it appears, is only the beginning.

From its all-purebred focus to its futurity rewards, a special legacy is being created at Strawberry Banks.
This is how it happened.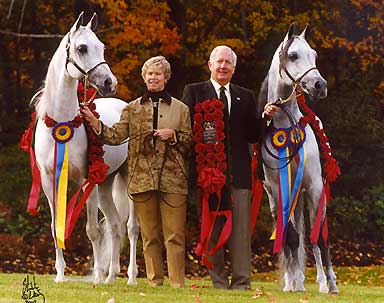 Barbara and the late Neil Chur
with multi-National Champion stallions A Temptation and Hey Hallelujah
The Magic Foundation: *Bask and *Elkana
It all began more than 31 years ago, in 1976. That was the year that Barbara and Neil Chur decided they needed "a distraction." The young couple had taken a few years to find their niche in the business world, finally settling on the healthcare industry. They moved back to their childhood home in New York, about half an hour from Buffalo, and devoted nearly every waking minute to their growing company and to raising their family. When they finally found time to purchase a home with acreage, they recognized the need for a recreation of some sort. High school friends Barb and Bob Daily, of Scotch Grove Farms, introduced them to Arabian horses.
That same year marked a turning point in the Arabian industry. The breed had been growing steadily since the second World War, and by the 1970s, prices for the horses were rising. The year 1976 saw a high water mark: At Mike Nichols' sale, held in May at his Connecticut farm, Lot 1—1972 U.S. National Champion Mare *Elkana—sold for $185,000, an all-time high for an Arabian horse at auction. She was so beautiful that the "New York Times," in coverage of a sale preview, compared her to the Mona Lisa. Then as now, she was regarded by horsemen as one of those special champions who remains an ideal through the years. After that auction, prices were on an upward trajectory in the breed; they didn't slow down until the Tax Reform of 1986, which shocked and reoriented all equine businesses.
Although their path was destined to cross with that of *Elkana, Neil and Barbara Chur began more modestly than the Nichols Sale. In 1977, they purchased a Half-Arabian mare named Jramira, and that summer, Jramira gave birth … and life changed for them forever. The gentle, caring mother, and the foal with its earnest little expression and slender, ballerina legs, transformed their view of the future.
"Neil and I had never been around a horse that foaled before," Barbara explains. "The thing that struck me, and it still does today, was just the miracle of mother nature. Looking at those mares with their babies—how they talk to them, the look in their eyes and on their faces—it's just incredible. Just watching that mare and her foal, and the love they shared, we knew we had to breed horses."
At the time, their "facility" consisted of a four-stall barn they had built themselves. It rapidly was expanded to 16 stalls, and it remained their center of operations for the next 20 years. Barbara remembers that on trail rides through their countryside, they occasionally lost their way and Jramira was relied upon to bring them home. When it came time to christen their Arabian horse venture, their home provided the inspiration. Two hard-to-miss features of the property were the banks that ran down to a small river, and the strawberries that grew wild in the woods.
For all their hopeful beginning, it unfortunately was not long before they experienced the heartbreak that can accompany loving horses. In 1979, having decided that they wanted to focus on the production of English pleasure horses, they went to Scottsdale and purchased the *Bask daughter Sherribask. They immediately bred her to *Aladdinn, who while he was not known for extreme performance talent, was respected for solid conformation and strong bloodlines.
"*Aladdinn went National Champion that year," Barbara says. "We came home from Nationals thinking how smart we were—we hadn't been in horses that long. Then, shortly after, our beautiful mare colicked and died within hours, right in the pasture in front of our house."
They reeled from the loss, but held to their theory that the best broodmare for the type of program they wanted was a *Bask daughter. Barbara began a search that eventually took her to Deor Farm in Butte Falls, Ore., home of *Elkana. She had seen photographs of the mare and was curious to see her in person, but at the time was more concerned with what sort of broodmare they would be able to afford on the $25,000 insurance payment they had received for their loss. She was unprepared when she first came face-to-face with the classically beautiful daughter of Aquinor and Estebna. *Elkana possessed more than just beauty; she also was a U.S. National Top Ten in open English Pleasure. Add to that, her personality and her huge dark eyes offered instant rapport. Barbara responded with appreciation, liking not only the mare, but also the love so easily discernible between *Elkana and her owner, Aude Espourteille.
But that reaction was nothing compared to how she felt when *Elkana's 6-month-old daughter by *Bask was led out. "When I saw A Love Song, I thought, 'this is it.'"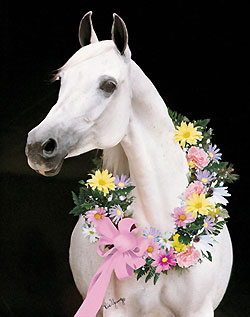 A Love Song
From the start, A Love Song was so critical to Strawberry Banks that she rarely left the farm, not even to be shown. *Bask daughters were notoriously susceptible to colic, and the risk, in the Churs' opinion, was simply not worth it. Besides, the legendary Polish stallion had just died, and mares of his bloodline increasingly were being regarded as priceless gems. A Love Song would devote her life to being the Grand Dam of Strawberry Banks.
The next important mare in the Chur breeding program was Elegant Crystal, foaled in 1983. She too was a daughter of *Elkana, this time by *Aladdinn, a match created by special arrangement with Aude Espourteille, using the Churs' replacement *Aladdinn breeding from years before.
That year, the Churs bred the stallion Tempter, by the *Bask son Cognac, out of the *Bask daughter Tonki. Injured as a weanling, Tempter was never a candidate for the show ring, but he wasted no time in establishing his credentials as a sire, with offspring such as Ericca and A Temptation.
"I jokingly say that when Tempter was born he was bay, but he's now so flea-bitten that if he lives another 10 years, he'll be bay again," Barbara smiles. The old stallion, now retired, is a favorite with everyone, his elegant quality and forceful personality a reminder of his importance in the history of Strawberry Banks. And that history is very real—he put them on the map in show competition.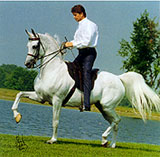 Strawberry Banks Farm trainer Brian Murch and Ericca

Stars Of The Show Ring

Over the years, there have been many Strawberry Banks headline show horses. Some have represented the farm in their wins, while others have emerged from the breeding program to win national titles for other owners. As a representative of the farm's prototypical breeding, the first to spin everyone's head was Ericca, an ethereal grey filly by Tempter, out of Elegant Crystal.

Barbara Chur recalls that Ericca made it clear early on that she had her sights set on being special. "We have a festival in our community every summer," she says, "and when Ericca was a baby, we rented port-a-stalls and took our horses there. We wanted everyone to see the mares and babies and stallions and know how kind and gentle they were.

One of the earliest Strawberry Banks-bred champions was sold just before he went on to national honors. Allience, a son of *Aladdinn and A Love Song, won the Canadian National Championship in English Pleasure and three U.S. Top Tens. Then he stepped up to his true calling in park, and added three U.S. National Championships, a reserve, and the Canadian National Championship. In a foray into formal driving, he picked up the U.S. National Championship there too, and then went on to a successful career at stud.

A Love Song also produced To Love Again, by Cognac, another who won at English Pleasure (two U.S. National Top Tens) and then went on to the Canadian Reserve National Championship in Park. She is now a member of the Strawberry Banks broodmare band.

A sampling of other champions, representing not only the farm, but also owners who have believed in their bloodlines, spans the spectrum of the show ring: WWW Breathless won U.S. National Top Ten honors in Hunter Pleasure, and Starz N Stripes in the Hunter Pleasure Futurity; Solarra is a U.S. National Top Ten in the Western Pleasure Futurity; Emperator (U.S. National Champion Futurity Colt) and Elusive Magic (U.S. Top Ten Yearling Colt and Top Ten Futurity Colt) are winners in halter. The traditional Strawberry Banks world of English pleasure has seen such standouts as—to name just a few—three-time national champion Chaparral DGL; Canadian National Reserve Champion and U.S. National Top Ten Amoree; HS Justatemptation, U.S. National Top Ten in the English Pleasure Futurity; The Hurricane, U.S. National Top Ten English Pleasure Horse; and Hey Its My Toi, who followed up U.S. National Top Tens in the Futurity and as a junior horse with a championship at the Youth Nationals.

"I truly love English. I love that performance level," says Barbara Chur. "But what I am trying to breed is an athletic horse, not just an English horse. I want the horse, no matter what venue, to be athletic and smooth and easy-moving. If one of the babies is a western horse, or halter or hunter or whatever, I want it to be the best in that division."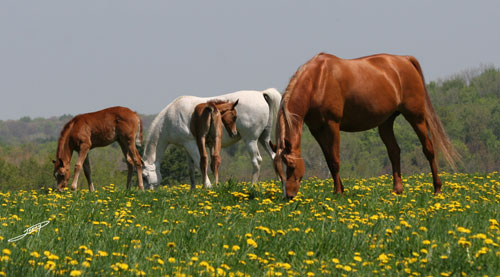 It's Not Just The Horses: The People Of Strawberry Banks
From the days when they built their own barn, Barbara and Neil Chur were hands-on horse lovers. Neil, however, was more in the public eye. As president of the Arabian Horse Trust, he committed time and resources to preserving the history of the breed in this country. As well, he joined Arnold Fisher, of Dunromin Arabians, in creating and financially backing the Yearling Sweepstakes program, the first large money payback system in the industry. At home, Barbara was in charge of the farm operation.
"I adore these horses," she says of her involvement. "They are very, very special to me. I have them because I want to breed them and create a horse for all to enjoy."
In the early years, Barbara juggled farm duties with the responsibilities of a growing family and her involvement in their business. A trained nurse, she oversaw the interior decoration of the Churs' network of nursing care facilities, with an eye toward incorporating top-level care in an ambience of home. Now, with the family grown and the business sold, she can direct her energy toward the horses she loves.
"She's the heart and soul of Strawberry Banks Farm," confirms Melanie Murch. "If they're foaling at 3:00 in the morning and she's home, she's out there watching every one of those babies being born. And she's not afraid to get her hands dirty."
Barbara also was a consistent railbird at shows, and Neil's strongest supporter when, with the arrival of Brian, her husband began showing in amateur driving and English.
She recalls her own progression to showing in the amateur division. "After Neil's death, I thought, 'This is just foolish. I haven't enjoyed these horses on the level of riding or driving, and I have the best driving teacher in the world right here.' When I mentioned it to Brian, he said, 'You need to drive Temptation.' And I said, 'Are you crazy? My first driving horse?' He said, 'Barbara, I'm telling you, he's the greatest and you'll just love him.' So I started driving A Temptation, and I won the National Championship that year (it was the horse, not the driver!). That was the best decision of my life, to get involved with driving. I do love it!"
Trainer Brian Murch's experience in Arabians goes back to his childhood; his father is well-known trainer Halsey Murch, long a figure in the Arabian community and now respected for his work in establishing the kindness-oriented method of training based on equine psychology. At the age of 20, Brian went to work for Lasma Arabians, the dominant showing and marketing organization of the 1960s through the mid-1980s. As an assistant trainer to Gene and Raymond LaCroix, he worked with many of the leading horses of the era, before moving on to Bethesda Farms and Royals Oaks Arabian Training Centre, both leading facilities in the breed at the time.
Now one of the top English Pleasure and Pleasure Driving trainers in the country, he has won nearly 50 national and reserve national championships, along with more than 150 top tens with his horses and amateurs. His wins at the regional and class A level have long since passed into the classification of "countless."
More important than his stellar record, however, is Brian's all-around knowledge of Arabians, their temperaments and their bloodlines, and his ability to communicate with them and develop their talents. From the beginning, he understood the importance of Strawberry Banks' commitment and contribution to the "big picture" of the Arabian horse breed.
"Everything they wanted to do was something that I thought I was ready to accomplish in my career," he says, recalling the reasons he came to the farm. "Our thoughts were so similar; we wanted the same kind of English horse, something that is athletic, but beautiful. The only regret I have is that we didn't find each other five or 10 years earlier."
The years of waiting for A Temptation and Hey Hallelujah babies to grow old enough for training have paid off, he says. "We're finally there, in terms of creating our own product. We've got young English performance horses coming along like we've never had since I've been here. It's certainly going to keep me motivated, because I'm seeing something pretty special starting to happen."
Michele Valone, who has been with Strawberry Banks since 1985, is the farm manager and heads the breeding operation. "Her duties are endless, and she is tireless," notes Barbara. "One minute she is ordering hay, and the next she's in the lab, sending out semen. Her love for her work and her horses is extraordinary."
Michele graduated from Cazenovia College's Equine Management program and Colorado State University's artificial insemination/cooled semen course. Professionally, she is known for her wide breadth of knowledge, close attention to detail, and willingness to exhaust all possibilities in making sure that mares are checked in foal. In addition to other services, she assists Dr. Joseph Tastjian in performing on-farm embryo transfers. She also manages the stallions who have made, or are about to make, their marks as sires.
For all of her manager's equine expertise, Barbara smiles most at one treasured memory: Michele, bareback on A Love Song, out for a companionable stroll.
Melanie Murch, Brian's wife, is "the backbone of Strawberry Banks' marketing and public relations," according to Barbara. She created and maintains the farm's website, keeping it up to date with information and innovative technology, and supervises the farm's advertising.
A native of North Carolina, Melanie grew up in Pony Club and has been involved with Arabians since her early teens. During the heyday of the Scottsdale sales in the 1980s, she worked for Leo Hansen, and after her marriage to Brian, supported her husband in his work with high-profile farms and horses. For years, she has shown in the hunter division, collecting a variety of top tens and regional awards for Strawberry Banks' clients.
Into The Future
For 20 years, Strawberry Banks was based on its original 100-acre farm; it was not until 1997 that the Churs built
a new facility, a 250-acre state-of-the-art layout designed to fully accommodate the needs of its Arabian population. In 2000, Brian Murch came aboard to oversee all facets of the horses' training in what had been largely a private operation.
Then, in 2007, as the earliest of the A Temptation/Hey Hallelujah foals came of age for training, the program itself was expanded. After years of breeding conservatively, using only a few mares per year, the numbers were increased to welcome 14 foals, and a new training barn was built. Considering the time it took to develop performance horses and ascertain which nicks worked best, Barbara reasoned, it was time to increase their base of knowledge.
With the expansion of the breeding program and the availability of its stallions to the public, Strawberry Banks' doors have opened wider. A limited number of outside horses are accepted for training now, and its Annual Open House reaches out to even more potential clients. Perhaps most importantly, the farm's innovative financial incentives, in place since 2005, ensure even more reward for those who believe in the Strawberry Banks breeding program.
Much of this is due to Barbara Chur's concept of supporting the Arabian industry. She sees her commitment as breeding the best horses possible, and providing a network of financial support that will expand opportunities for breeders. Strawberry Banks, in her view, should be a point of entry to the breed for interested enthusiasts, as well as an integral part of the landscape for those already in the business. And she is clear about her mandate: While her challenge is to breed for specialized areas of the show ring, she feels responsible first for producing horses capable of success in whatever careers claim them.
"I want people to think of Strawberry Banks Farm as a place that's friendly and open," she says. "We enjoy having people here. We just happen to breed horses that we think are not only beautiful, but conformationally correct and trainable. In other words, the kind of horses that people can have fun with."
Achieving The Goals: Breeding Top-Flight Horses
The Strawberry Banks breeding program today is the collaborative agenda of Barbara Chur, Brian and Melanie Murch, and focuses completely on purebreds. "I wouldn't say we'll never breed Half-Arabians," Barbara says, "but not now. In some divisions, English included, it seems as if so much of the action has been in the Half-Arabians in recent years. I feel that the purebreds need us; they are the root and foundation of everything, and if we don't have good purebreds, we don't have a breed."
In A Temptation and Hey Hallelujah, Strawberry Banks offers the most promising English pedigree cross available. Both sires' bloodlines reflect *Bask, but after that, they spread the wealth: Hey Hallelujah, a son of Huckleberry Bey, comes with the Varian influence that has been a hallmark of the English show ring in recent years, while A Temptation is entirely free of that line, for a classic mixture of talent to spare. Between the two, there is something for any mare owner interested in breeding English performance horses.
With the stallions in place, the first step toward the future has been refreshing the broodmare band. For years, the farm had been known for its world-class mares—an ensemble that included, among others, three *Bask daughters: A Love Song, Dancing Love and Tonki. But at the dawn of a new century, that group was aging.
"Our beautiful mares are all getting so old," Barbara says, "so I've been looking for new mares, pretty new mares, who not only move well and move freely, but could maybe halter at a regional level. I just think it's important to never, ever lose that beautiful face on an Arabian horse. Performance horses and halter horses each have their own strengths, and they can certainly help one another. Temptation and Hey are both beautiful stallions, and their babies, for the most part, are reflecting that."
To support the breeding careers of A Temptation and Hey Hallelujah, the broodmare band is expanding with younger mares, representing more proven English bloodlines. "We are always interested in the important female line, so we have purchased or are expecting foals from mares such as CP Shiraz, Ericca, Toi Jabaska, Rumina Afire, Ultrafire,RY Fire Ghazi, and Hallelujah Bask. We have also added sirelines of Barbary, Afire Bey V, Hucklebey Berry, Triften, Baskafire and MHR Nobility."
Although it is not first priority, Strawberry Banks sees an opportunity for Hey Hallelujah and A Temptation when being bred to halter mares. "We've learned that in the halter world, our two studs are producing halter horses," Brian says. "Are they producing halter horses on a big-time level? Not yet, but they will if they are bred to the right kind of mares."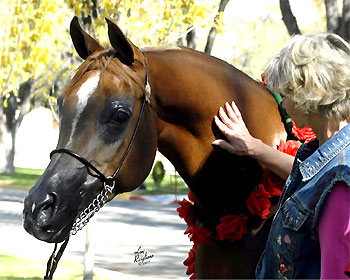 U.S. National Champion Maggdalina
One "right kind of mare" would be the U.S. National Champion Maggdalina, acquired in June 2007. In addition to retaining beauty in performance horses, Barbara enjoys the occasional foray into halter, a pleasure not afforded for nearly a decade.
"I love Maggdalina," she says. "I think she's absolutely beautiful. It reminds me of when I first saw *Elkana;
I just fell in love with her. How could you not? I feel the same way about Maggdalina."
Brian concurs. "I tied her national champion at the Canadian Nationals when she was a 3-year-old," he says.
"She's a wonderful, wonderful mare."

The purchase of Maggdalina set off questions as to whether the farm would be trying to breed horses capable of showing to national championships in both halter and performance, as did Ericca. Barbara demurs. "I think it's possible, but I think it's the rare individual that is a national champion halter horse and performance horse," she says. Instead, she envisions a limited halter-breeding scheme in addition to the role that halter-quality mares are slated to play in the overall performance operation. "I think it's important to be cognizant of the whole of the breed."
Another concern in the breeding program is maintaining the four-square balance that both A Temptation and Hey Hallelujah represent. "The biggest problem I have with performance horses is that so many of them are too up-front," she says. "I like them to be really even. The thing I probably like the least on any performance horse is when it is only moving up front, and its back end looks like it belongs to somebody else."
An important goal as well is reproducing the attitude and trainability so apparent in A Temptation and Hey Hallelujah. "Both of them are just incredible gentlemen," Barbara says. "Temptation is really, really laidback; he bows up the most when you're on him. Hey is a little easier to get pumped. He gets a little hotter when you're doing nose-to-nose for photographs—but not much. Year after year, they have proven themselves by holding up in the show ring and breeding shed by staying conformationally sound and sweet dispositions."
Although the farm comes equipped with a stallion wing, both Temptation and Hey live in the main barn. "Temptation is in the first stall, then a gelding, then Hey," she explains. "They're right next to the wash rack, where everything goes on, and they're loving life."
When all is said and done, however, the basic aim of the program remains that of the true horseman: refining and improving the attributes already in their lines, while minimizing any undesirable characteristics.
"Strawberry Banks' emphasis has always been 'pretty that's athletic,'" says Brian. "We want to continue to do that."
Barbara acknowledges that patience is the name of the game. "The best advice I've heard is that sometimes in breeding horses, people try to correct or establish too many traits in one generation," she relates.
Knowing the potential of her bloodlines, she tries to strike a balance between focusing on each step and envisioning long-term goals. "Sometimes I'm not sure that I'm looking far enough down the line," she says. "I'm not able to plan ahead more than two generations. Brian, Melanie and I are so anxious and so excited about breeding Hey to Temptation mares, and vice versa. We have a picture in mind. We think it's going to be incredible."
Already there is evidence that they are on the right track. "When you see these babies, you see consistency of what Temptation is and what Hey is," Brian Murch says. "When you have a foal crop, you'd like to think that maybe you'll have close to 50 percent babies that you'll really like. But what I'm seeing is 75 percent or better of babies that I think have a strong chance of making it and being above average.
"The biggest thing is the look they have," he continues. "I'm around Hey Hallelujah and A Temptation every day, and when you're around something everyday, it's easy sometimes to fail to appreciate what unique individuals they are, how lucky you really are. But I see it in the babies—I see that same quality, that same expression. One that's that special has those big, soft eyes, and when they look at you, you know that they're just a little bit better. These babies all have that look. It's truly amazing. There are a couple that when we've shown them to people, I just think, 'My goodness. This is something special.' It's neat for us to be able to see that distinctive look here. When you've been part of the creation, it means that much more."
Expressing The Talent: Training
Just as the breeding program has expanded, so too has the training operation, as Hey Hallelujah and A Temptation foals get older. The first step toward the future was the construction of a new 20-stall yearling and 2-year-old barn, to allow every foal to learn basic skills before starting in a career.
Then they move on to Brian, and the fun really begins. "There is nothing like training these Temptation and Hey babies," he says. "The ones that I'm working so far are training like the *Bask horses did during the Lasma days. They could bend their neck, and you knew they'd be easy to train because they were so supple, but you were blown away by what you saw in them in the beginning and what they became. With these youngsters that we have, I think that's what we're going to see. They're very much like the *Bask horses. And look at the pedigrees—that's what they should be."
An added benefit is that their temperaments have been uniformly workable. "I'm thinking I haven't had one that is tough yet," he says, but adds that horses come into training with different natural schedules. It is his habit to go slower with the ones who need more time. "If they have a good neck and good shoulders, if you just give them their space, it's going to happen."
Planning For The Future: Innovative Financial Incentives
One of Barbara Chur's guiding principles has been the necessity of supporting the industry in such a way as to encourage the breeding and showing of Arabian horses. To that end, in 2005, the farm established private futurities for the foals of A Temptation and Hey Hallelujah, with payouts totaling $130,000.
"Trot to the Gold" is a $90,000 futurity for 3-year-old performances horses that compete at the U.S. Nationals in the English Pleasure Futurity, with $45,000 available for the offspring of each stallion. Under this system, each champion receives $15,000, divided between the owner ($10,000) and breeder ($5,000). Reserve Champions take home $10,000 ($7,000 to the owner, $3,000) to the breeder, and the balance of the Top Ten each are given $2,000.
"A-Hey of a Yearling Sweepstakes" is a $40,000 futurity available to yearlings in the U.S. National Sweepstakes classes for colts and fillies. Both systems reward contenders who place first through tenth, with payments to both owners and breeders.
Another Strawberry Banks program which aids owners of horses by A Temptation and Hey Hallelujah is now in place, in which the farm accepts those candidates in training for a three-month period at reduced rates. The object is to evaluate each horse and begin its development for the future—a bargain for horse owners which also allows Strawberry Banks to learn more about the various crosses to the farm's stallions.
Also in a gesture of support for the enjoyment of Arabians, Barbara Chur annually sponsors the Neil M. Chur Memorial Award, which presents a check for $5,000 to the winner of the English Pleasure AOTR 40 and Over class at the U.S. Nationals.
And Barbara herself has spent countless hours in the establishment of the Arabian English Performance Futurity, which issued its first payouts at Scottsdale in 2007.
On the "soft dollar" side, the farm offers its Annual Open House each August, with visitors invited to a day of educational seminars by nationally-renowned trainers in a friendly, congenial atmosphere. Lunch and dinner is festive and enjoyable, with presentations of the farm's horses, music and good conversation. For longtime breeders and new enthusiasts alike, the day is free of charge.

What's It All About?
"This is all so much more than just a fun thing that Neil and I enjoyed," Barbara Chur reflects when she looks out over the serene pastures of Strawberry Banks Farm. "The horses are really, really important."
She can't imagine a day without them, or without trying to do the best by them. Again and again, that philosophy resonates through the whole Strawberry Banks operation.
It is nowhere more apparent than her philosophy of her horses' competition in the show ring. "If the horse is ready and it's something you think is good for it (you know if they want to do it or not), then I think it's the good thing to do," she says. Consequently, the attainment of a major award—such as A Temptation and Hey Hallelujah's repeated championships—does not require a horse to retire, just so it doesn't run the chance of being defeated.
"The reason you want to show is to be able to let people see a fine horse do something well," she says. "To me, winning the prize is not the most important thing. I would never want to show a horse if I didn't think the horse was ready, willing and able. It's the happiness of the horse that's important to me."
She recalls when they took Ericca to the last U.S. National Show in Louisville, in 2006, for the presentation of champions. "That was so emotional. We almost didn't bring her. She has developed melanomas on her head, and I wanted people to remember her the way she always was. But then I thought, 'This mares loves to show—she loves it so much that she deserves to do it one more time.' And she did love it. Brian and I were laughing that she felt like the queen again."
She reflects on her priorities at the farm. "I don't feel any differently about that than I ever did. I think I don't feel any differently about that than I do about life, either. I feel it's important to treat people the right way, and I feel the same thing about horses."
She cherishes the past three decades in horses. The most memorable experience? Well, of course there was that first night, in 1977, when Jramira started it all with one spindly foal. And then there was 2005, when A Temptation won the U.S. National Championship in Pleasure Driving. At the same show, he had already won the adult amateur title with her. "I was standing there, and I was so excited. Mitch Sperte came up and waved to me to come into the arena. Brian moved over on the cart seat, and I was afraid he was going to hop out and make me drive this horse, but that wasn't his idea at all. I joined him in the cart and we went around for our victory lap. And then we got to the outgate, and Brian leaned over and said, 'Want to do it again?' I said, 'Yes!' That memory was incredible.
"Horses are love," she concludes, "but Arabian horses are a passion."