8th annual
Open House and
Sale Horse Presentation
Saturday, August 9th, 2008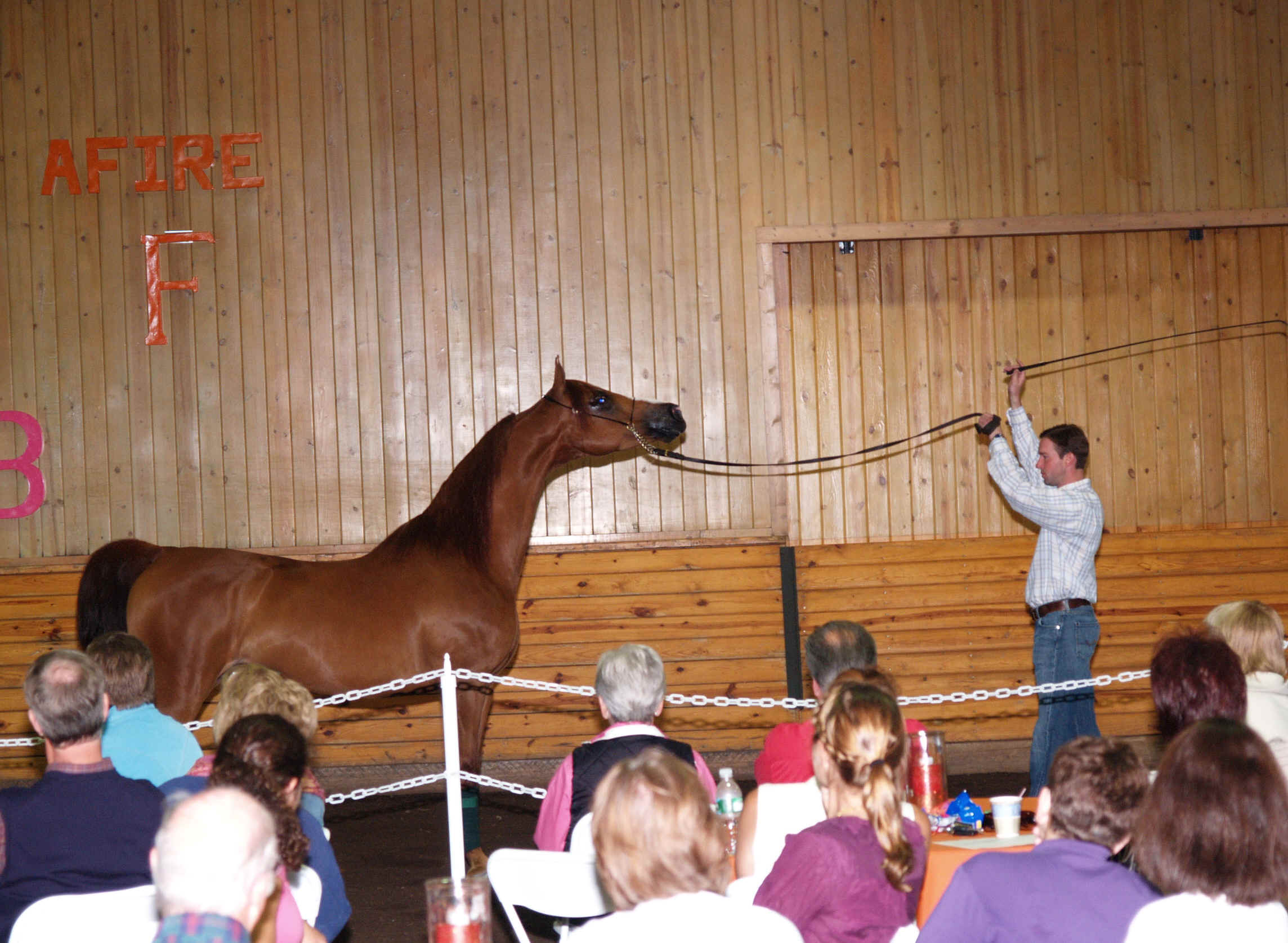 Andy Selmen

A Day With Arabians In East Aurora
by Mary Kirkman writer at the Arabian Horse Times
Saturday, August 9, 2008. The night before had been black with rain, but the morning dawned sunny and mild. Twenty-five miles southeast of Buffalo, near the historic village of East Aurora, N.Y., Strawberry Banks Farm geared up for its eighth annual open house.
There are a lot of reasons why nearly 200 to 250 people attend the Strawberry Banks Open House every year. Some want to see the farm's powerhouse stallions, A Temptation, Hey Hallelujah, and as of this year, Baske Afire. Others want to look at a top-class facility, and the Arabian nursery is a good example of one ("It's as if they said, 'okay, I'm a horse; what do I want?" observed one visitor). And some just want to spend a lovely day in the country, which in western New York in August, is breathtakingly beautiful. Horse heaven, one guest called it.
This year the event was better than ever, a real accomplishment given its record of memorable times. The gates opened at 9:30 in the morning, with the first seminar getting underway at 10:00. Halter trainer Andy Sellman, of Argent Farms in River Falls, Wis., was the first speaker, addressing techniques for amateur halter exhibitors.
"It was very amateur-oriented," reports Russ Vento, who was attending his first Strawberry Banks Open House. "It was all about conditioning, health care, and training—no jerking and snatching, no rough stuff."
The group then walked over to the mare barn to see a selection of 2008 foals by the farm's stallions, and take a look at many of the mares. First-time visitors may have been surprised to find that some of Strawberry Banks' best broodmares live Polish-style, loose, in the barn's indoor arena.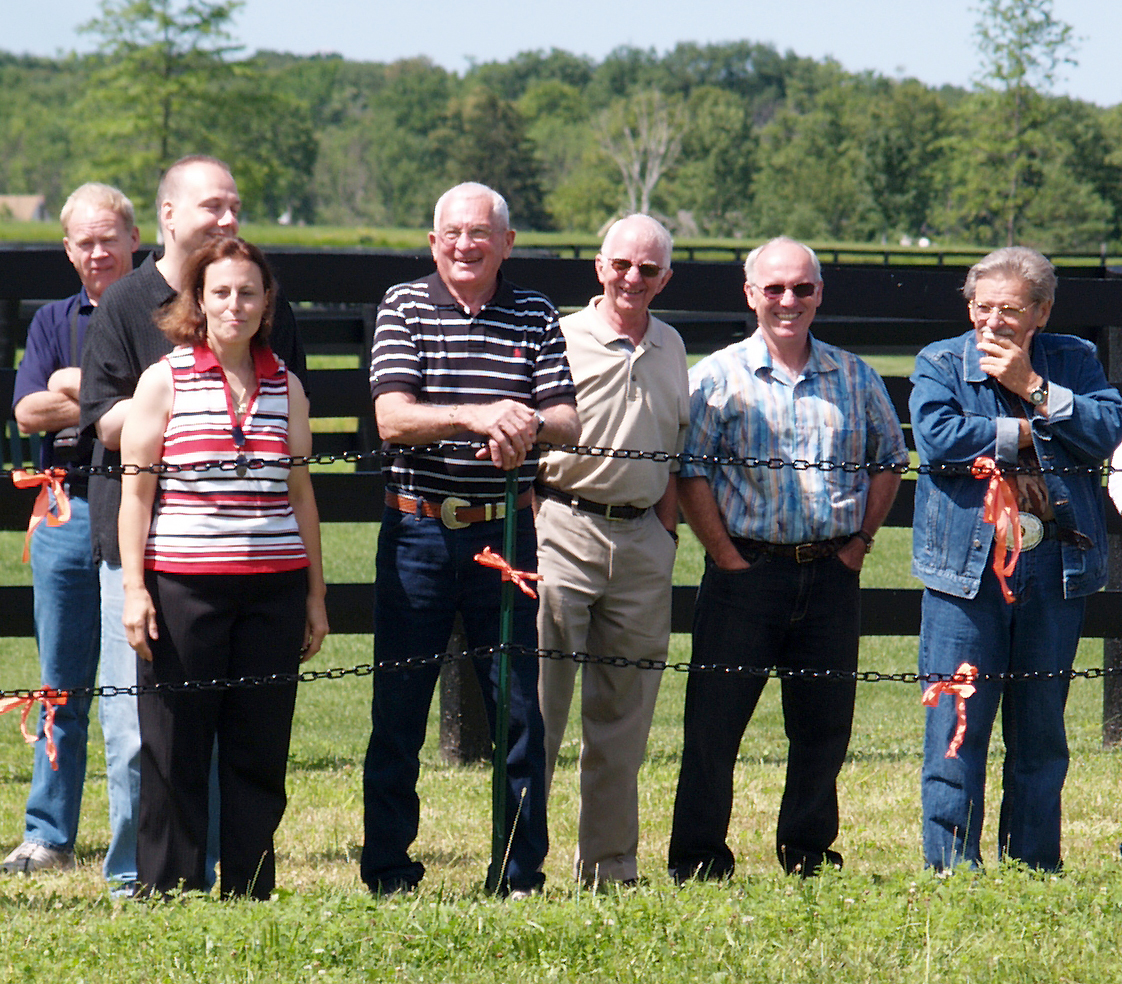 Peter Cameron and friends
"We've done that for six or seven years now," says Melanie Murch, who handles Strawberry Banks' publicity. She notes the feed troughs on the periphery of the arena. "Each mare knows which one is hers. They go out during the day and come in a night. We tie them when they are fed, and then turn them loose to mingle at night. They love it."
Included in the group of roughly a half-dozen are U.S. National Champion Mare Ericca, Canadian National Reserve Champion in Park To Love Again, and the *Elkana daughter Elegant Crystal, dam of Ericca.
"I had never seen Ericca other than at the show," recounts Vento. "So I wanted to see her. And Bob had To Love Again; she used to like to be scratched a certain way. I hadn't seen her in 10 or 12 years, but she came running up to me, and I got to love her and pet her. Then Ericca walked up, and her attitude was, 'I want that too!' So I've got one arm on To Love Again, one on Ericca, and then another mare comes along and she wants some attention too. So there I am in the middle of six grey mares, and they are, like, 'it's my turn.' It was a blast."
The afternoon clinic for amateurs was by Bob Battaglia, who focused on how to show horses—not from the standpoint of specific moves, but relating to the exhibitor's attitude about him or herself. Battaglia addressed personal confidence, and how riders and their horses can work together for a better presentation.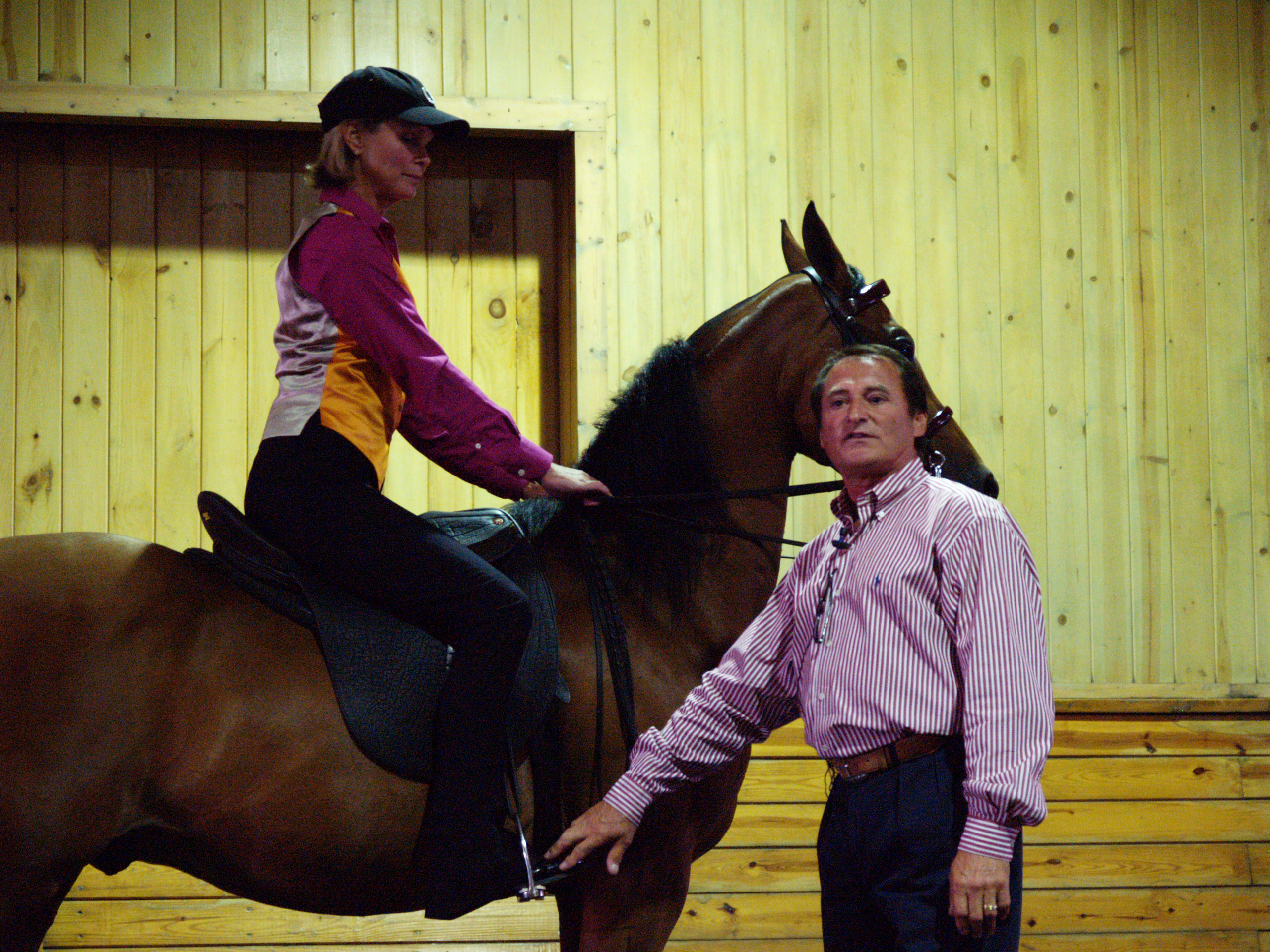 Bob Battaglia
Then he took a break from showing techniques to chat about the Arabian industry, inviting a question-and-answer session and throwing out a few topics that sparked a thoughtful discussion of issues in the Arabian industry. When the clinic ended, the crowd gave him a standing ovation.
Next on the schedule was the presentation of sale horses. Assisting resident trainer Brian Murch were Chad Judy, of Empress Arabians; Sean Sutton, of Highland Farm; Rodney Echenrode of Equistar Training Center; Greg Knowles and Chris Petford. By the end of the day, three of the horses offered had found new homes (selling themselves, some guests commented, since the Strawberry Banks format involved no "hard sell"), and in the days following, three more changed hands as well.
After dinner, a highlight of the program was "Memories of Arabian Horse Legends," a 20-minute video sponsored by Barbara Chur and narrated by Harry Cooper. Her goal was to create an educational tool for enthusiasts who were not in the Arabian industry to know the famous names in pedigrees personally. From grainy footage of *Bask in Poland to videos of such valued names as Huckleberry Bey, Zodiac Matador and FF Summer Storm, the film detailed the accomplishments, bloodlines and importance of historic horses. It closed with a brief but detailed study of the Strawberry Banks stallions.
When the lights came up, the farm's trio of stallions, all decked out in roses, were presented. Brian Murch rose seven-time national champion Hey Hallelujah, while Jim Stachowski was aboard new arrival Baske Afire. A Temptation, a four-time national champion, was turned loose to perform for the crowd. Then their saddles came off and visitors were invited to get up-close-and-personal with the champion of their choice.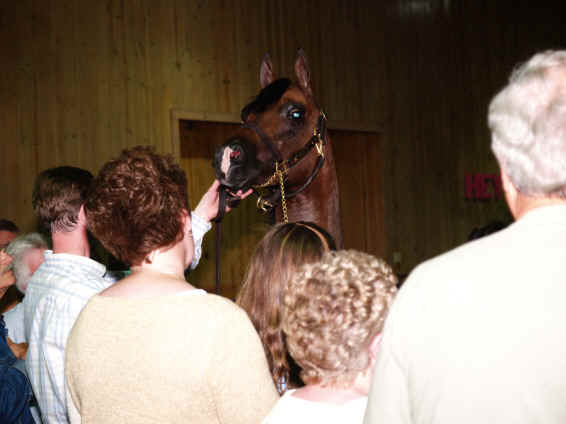 Baske Afire enjoying the attention
As an extra treat, U.S. National Champion Mare Maggdalina was brought in during the evening, and guests were invited to meet her personally. Russ Vento voiced a thought that may have been in many minds: "We don't see enough of that in our breed. We don't get to touch our national champions. Maggdalina is one of the most beautiful mares! There were a hundred people standing around her, and her attitude was like, 'who's got the carrot?'"
In addition to the real Maggdalina, sculptor Judy Nordquist was on hand with a clay model of her bronze of the mare for the crowd to preview.
"It was like the years of horse fair when you got to see and touch horses you'd only seen in the magazine," says Russ Vento. "It was more like a promotion for the Arabian horse, not just Strawberry Banks."
"Barbara is all about sharing information," Melanie Murch agrees. "She always gets great people for our seminars, and she tries to make it easy for newcomers to see the Arabian horse. And it's all free. We did sell horses—but the Open House is about more than that. One sale this year was to a woman who came to an open house a few years ago. She's retired now and has time to spend to horses. She hadn't been in Arabians before, but she is now."
And so with good food, education to challenge the mind, and horses to inspire the spirit, the latest Strawberry Banks Open House passed into history. Everything had fallen into place—even the weather. The party moved indoors in the twilight of a summer evening, and within minutes, the skies opened and lightning dazzled the sky.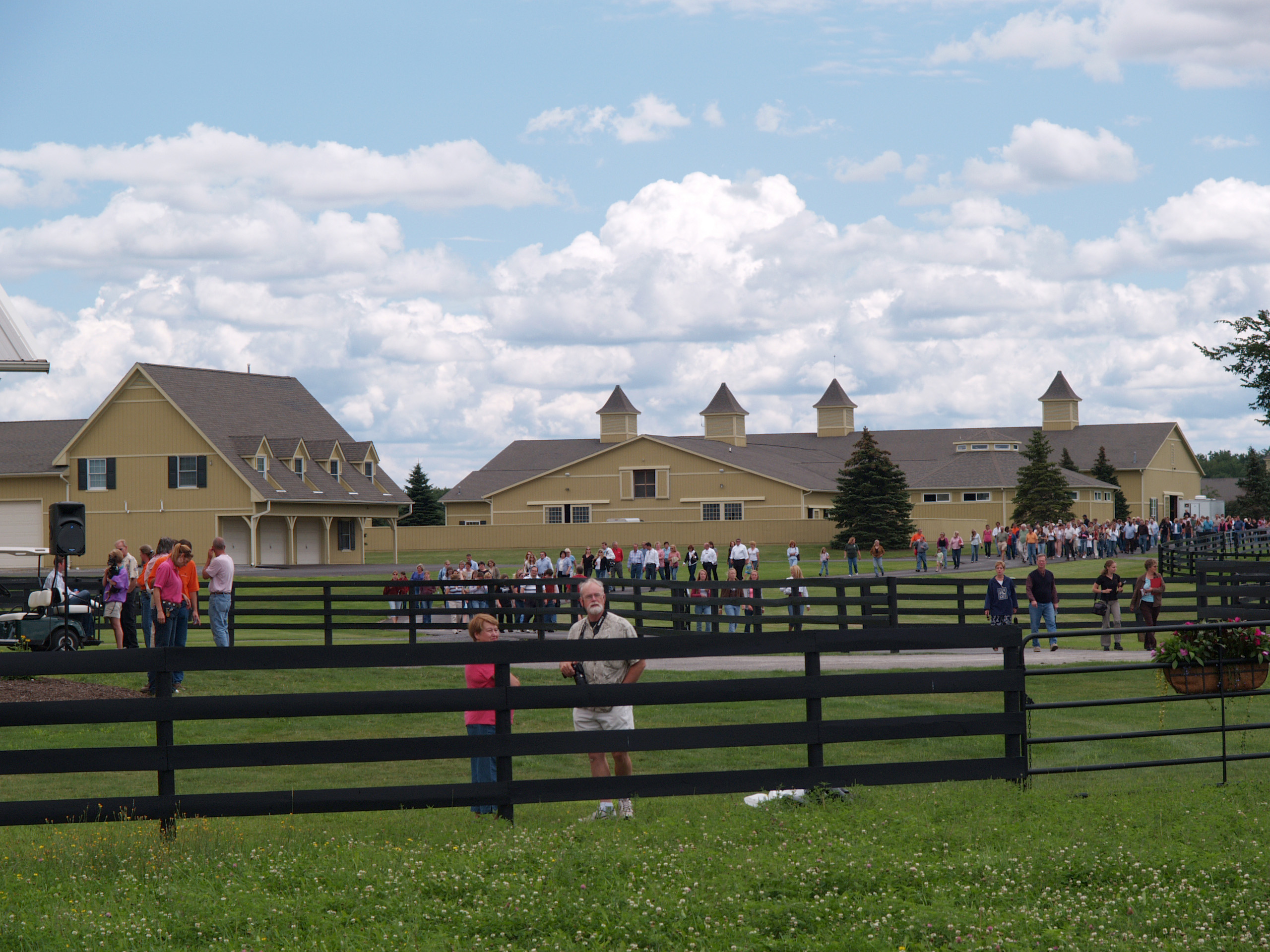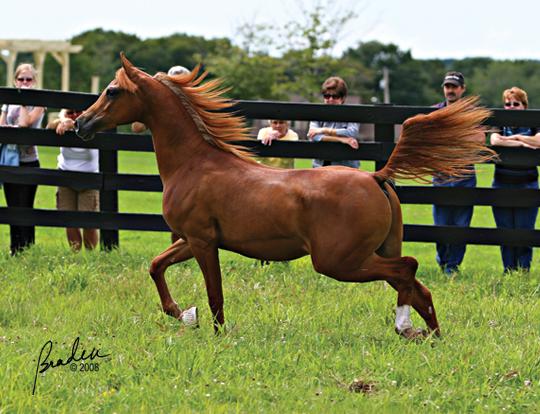 Hey Hallelujah colt Going My Whey




Gates open at 9:30
10:00 start for a day of fun!
10:00
Clinic
Mares and Foals

12:30
Lunch

1:30
Yearling Presentation
Clinic
Sale Horse Presentation
Open Barns

6:00
Dinner
Film "Memories of Arabian Horse Legends"
Stallion presentations
Baske Afire, A Temptation and Hey Hallelujah



Hotels



Click here

www.mapquest.com

Directions
From Route I-90 West traveling East

Exit 57 - Hamburg / East Aurora
thru toll - Rte 75 (veer right) Camp Road
To Rte 20 - Turn Right
To Rte 20A - Diagonal right
(Walmart will be on your right when you make turn)
Continue on 20A straight thru Orchard Park
about 2 1/2 miles go thru Davis Road
Strawberry Banks Farm will be the first right past Davis Road.


From Route I-90 East traveling West
Take the US-219 exit number 55 toward Orchard Park/ Springville
Merge onto US - 219 S / Southern tier
Take the US- 20A exit right toward Orchard Park
Continue on 20A straight thru Orchard Park
about 2 1/2 miles go thru Davis Road
Strawberry Banks Farm will be the first right past Davis Road.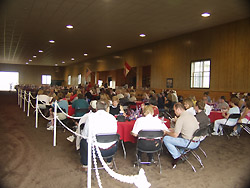 [click here for 2003 article in Arabian Horse Times Magazine]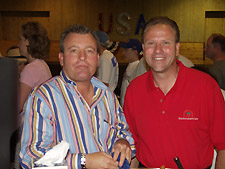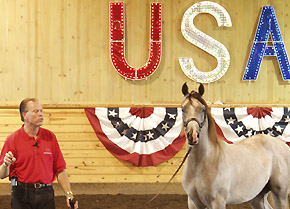 [back to Events page]