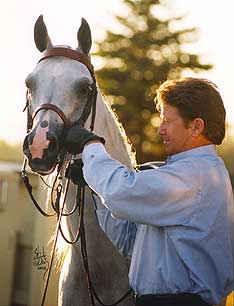 Strawberry Banks Farm trainer Brian Murch
with U.S. National Champion English Pleasure Horse
A Temptation

Brian Murch has established himself as one of the industry's Top English and Driving Division Trainers...
winning the 2001 and 2002 U.S. National Champion English Pleasure class with
Hey Hallelujah and A Temptation.

He has displayed his talents and proven his abilities (again and again) by winning 44 National Championships
and Reserves National Championships and over 150 Top Tens with his horses and his amateurs.
He has earned countless Regional and class A Awards.

Strawberry Banks Farm is now accepting a limited number of training horses.
Please give Brian a call to talk about your training needs.
---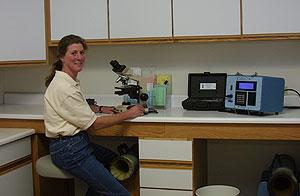 Michele Valone ~ Breeding Manager
Heading the Strawberry Banks breeding operation is Michele Valone. Michele has been with Strawberry Banks since 1985. She graduated from Cazenovia College's equine management course and Colorado State University's artificial insemination – cooled semen course. Michele manages all the stallions; Baske Afire, A Temptation and Hey Hallelujah, as well as the younger studs.
She explains, "I work closely with our veterinarian, who does all palpations and inseminations. Our customers know that we will do anything and everything we can possibly do to get their mares in foal. I take all calls myself, and do the lab work as well, with some great assistants at my elbow."
Michele is also responsible for caring for all the pregnant mares, watching their pregnancies develop, foaling them out, then caring for mother and child. Michele says, "The mare/foal relationship and getting the babies off on the right foot are the favorite part of my time at the farm".

Dr. Joseph Tastjian , Springville Veterinary Services and Michele have successfully accomplished on site embryo transfers.

---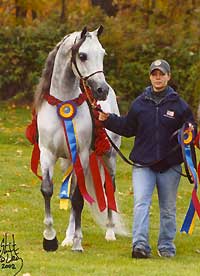 Nicole Saville Farell and Hey Hallelujah

Nicole has been a great asset to Strawberry Banks Farm and is in her 12th year.
She is in charge of over seeing all horses in the training program.